By the time the government approves any vaccination, the damage by COVID-19 will be done. Why not use something we have available already? Chloroquine. It was cheap and readily available. South Korea included it's use in their guidelines, and they had an order of magnitude fewer deaths than China!
These are treatment guidelines from South Korea:
Treatment Guidelines from South Korea[7]
According to the Korea Biomedical Review, the South Korean COVID-19 Central Clinical Task Force guidelines are as follows:
1. If patients are young, healthy, and have mild symptoms without underlying conditions, doctors can observe them without antiviral treatment;
2. If more than 10 days have passed since the onset of the illness and the symptoms are mild, physicians do not have to start an antiviral medication;
3. However, if patients are old or have underlying conditions with serious symptoms, physicians should consider an antiviral treatment. If they decide to use the antiviral therapy, they should start the administration as soon as possible:
… chloroquine 500mg orally per day.
4. As chloroquine is not available in Korea, doctors could consider hydroxychloroquine 400mg orally per day (Hydroxychloroquine is an analog of chloroquine used against malaria, autoimmune disorders, etc. It is widely available as well).
5. The treatment is suitable for 7 – 10 days, which can be shortened or extended depending on clinical progress.
Notably, the guidelines mention other antivirals as further lines of defense, including anti-HIV drugs.
I include another paper above regarding the mechanisms by which Chloroquine may work against COVID-19 – in part by raising PH in the endosomes which open up the virus particles and by affecting ACE-2 interactions in the lung where most of the damage is done without treatment.
Here is a article from ASIA Times:
Why are Korea's Covid-19 death rates so low?
South Korea has the dubious distinction of suffering the second-highest number of Covid-19 infections after China – but can also boast the lowest death ratio among countries with significant numbers of cases.
According to the WHO on March 6, the crude mortality ratio for Covid-19 – that is, the number of reported deaths divided by the number of reported cases – is between 3-4%. In Korea, as of March 9, that figure was a mere 0.7%.
While, 7,478 cases were confirmed in South Korea by the Korea Center for Disease Control and Prevention (KCDC) on Monday, only 51 have died. Meanwhile, according to data from John Hopkins University, Italy has 7,375 cases and 366 deaths, while Iran has 7161 cases and 237 deaths.
Amid the outbreak, neighboring China has used a "Great Wall" strategy to cordon off entire cities. South Korea has stuck to a liberal playbook: even its most affected city, Daegu, has not been isolated. This makes Seoul's apparent success in the struggle against Covid-19 a potential benchmark for other affected democracies.
What is behind Korea's low fatality rate from a virus that has spooked the world? Government briefers speaking to foreign reporters in Seoul on Monday offered some pointers.
Key factors include a robust national health service; prior experience of virus outbreaks and related preparations; aggressive execution of testing, isolation and treatment protocols, fully backed by the law – and two incidences of good fortune.
Systems activated
South Korea reacted to the crisis with vigor, deploying a range of legal, medical, technological and public communication efforts.
The country could act so effectively due to a piece of rare good luck. Buttressing prior experience with SARS and MERS, the KCDC – by coincidence – conducted a table-top exercise on a coronavirus outbreak in December 2019.
As a result, officials were fully prepared when the novel coronavirus hit the nation the following month. Testing started on January 11, Kwon said; the first infection was confirmed on January 19.
Telephone consulting services, drive-through test centers and thermal cameras – which, set up in buildings and public places to detect fever, swiftly came online. South Korea has undertaken approximately 190,000 tests thus far, according to KCDC Deputy Director General Kwon Jun-wook, and has the capacity to undertake 20,000 per day. Turnaround times are six-24 hours.
Tests are highly affordable. "The test kit is about $130, and about half is covered by insurance the other half by individual," Kwon said. Those who test positive get the test free, "So there is no reason for suspected cases to hide their symptoms," he said.
Overseas experts approve.
"There is no such thing as too much testing during an outbreak," Dan Strickland, a retired American epidemiologist told Asia Times. "All the testing is catching false positives" – ie those who test positive but do not actually have the disease – "but is also catching mild cases."

Dedicated centers and hospitals centralize specialized equipment and personnel, while keeping the virus out of regular hospitals. A triage system ensures only those with severe symptoms are admitted to oxygenated, low-pressure wards. Home quarantine with access to medical consulting is widely employed.
Widespread tests….
South Korea's cases of infection had been minimal until the third week of February when cases suddenly exploded in the country's southeast – a result of chain infections in crowded services held by the secretive Christian sect, Shincheonji.
Some 63% of Korea's cases hail from the sect, according to government data.
While Shincheonji members are scattered nationwide, the government demanded – and received – its membership list. Contrary to widespread rumors and accusations, a senior government official said the church has cooperated.
"A lot of research has been conducted based on the information delivered by their HQ, it was very comprehensive info: the number of members, their personal information and the location of their church facilities," said Vice Minister of Health and Welfare Kim Gang-lip, who is also overall coordinator 1 of the Central Safety Countermeasures Headquarters.
"The reliability of the information was verified through an administrative investigation," Kim said. "We went into their information systems to verify and double check; from the overall organizational perspective, they are cooperating."
The government implemented widespread testing of the church's 211,000 followers. Those with symptoms were triaged as priority testees; once they were cleared, tests were conducted on those who showed no symptoms to ensure they were not latent carriers.
"From the containment phase, we tried to implement case isolation and case tracking, and this was done in a very aggressive manner," Kim Dong-hyun of the Korean Society of Epidemiology said.
"We have legal grounds for cohort isolation," said Kwon. "Rather than being an infringement of human rights, this was for the prevention of epidemic." Related laws on the books date back to the MERS outbreak and further legal changes take effect in April.
Case tracking was done via CCTV data mining and credit use patterns.
…early treatment
Quarantines removed the infected from the general populace, but perhaps even more critical to the low death rate was the activation of early treatment.
"Even on followers who did not show symptoms, we conducted screening and confirmed early cases early on," Kim said. "I think that was effective."
The large dataset created a knowledge bank on effective measures and treatments.
"Mild and asymptomatic cases were denominated and this brings down the fatality rate," Kim said. "I think we were able to identify almost all of the mild cases…. on that side, Korea was quite exceptional, and that allowed us to collect extensive data."
Despite panicky headlines about a lack of specific medication for Covid-19, advanced medical treatment offers hope even in severe cases.
"Viral pneumonia, even when complicated by bacterial pneumonia and end-organ failure, is potentially surmountable," Ogan Gurel, a non-practicing doctor currently working as a professor in South Korea, told Asia Times. "You just need advanced medical care – and some oxygen."
Age matters
Along with its December coronavirus drill, Korea was lucky in another respect: Its core cluster infected an age range with strong resistance to Covid-19, for Shincheonji concentrated its recruitment efforts on students and the young.
"When you look at the age and the distribution of confirmed cases in Shincheonji you see high portion of those in the 20s and 30s," said Kim. "Therefore, the fatality rate in this cohort is low."
"If you look at the population distribution compared to China, we have a higher portion of younger age groups," agreed Kim Yeon-jae, an infectious disease specialist at Korea's National Medical Center. "This has impact on the fatality rate."
According to data supplied to journalists on Monday, there have been no fatalities in Korea among persons aged under 29.
Still, even for the aged, Korea is doing better than other affected countries, said epidemiologist Kim: the percentage of fatalities in the 70-80 age group are lower than in Japan or Italy. "I think this is thanks to early detection and early treatment," he said.
Unanswered questions
Yet Korea is just three months into the virus. While the day-to-day increase rate appears to be slowing (see chart at bottom) it is presumptuous to declare victory.
"It too early to assess if we have been successful or not," said Kim Dong-hyun. "We are still in a learning process…."
With Korea's numbers having shot up just within the last three weeks, the risk of a sudden death surge, as the disease works its course through the biologies of thousands of infected, remains a possibility.
On the other hand, the low ratio of death-to-infection could continue. If so, Korea's extensive dataset could prove Covid-19 far less lethal than many fear.
One expert believes Korea's numbers are superior to the WHO's.
"Death rates are almost always overestimates as they miss tons of people who don't have [symptoms]," said a US-based statistical geneticist who requested anonymity. "False positive are less of an issue than untested masses."
He added: "It is consistently in the interest of medical pros to overstate risks in order to win more funding from governments: 'Fund me and you might not die,' is a compelling argument!"
Culture-specific factors could be at work. In previous epidemics, some postulated that the Korean diet – heavy on such supposedly immune-boosting ingredients as garlic – might offer the populace superior in-body defenses.
Professionals are skeptical. "There is no evidence that Koreans, or other populations, have specifically strong adaptive immune systems" to the virus, said Gurel.
And big picture, Korea's high testing/high numbers/low mortality ratios are not the only way forward: Neighbor Japan has lower overall numbers, but a higher percentage of fatalities.
"We were very strong in the early spread," Kim said. "In Japan, there is a shortage of testing kits and they only focus on patients which show symptoms. You could say that is a strategy."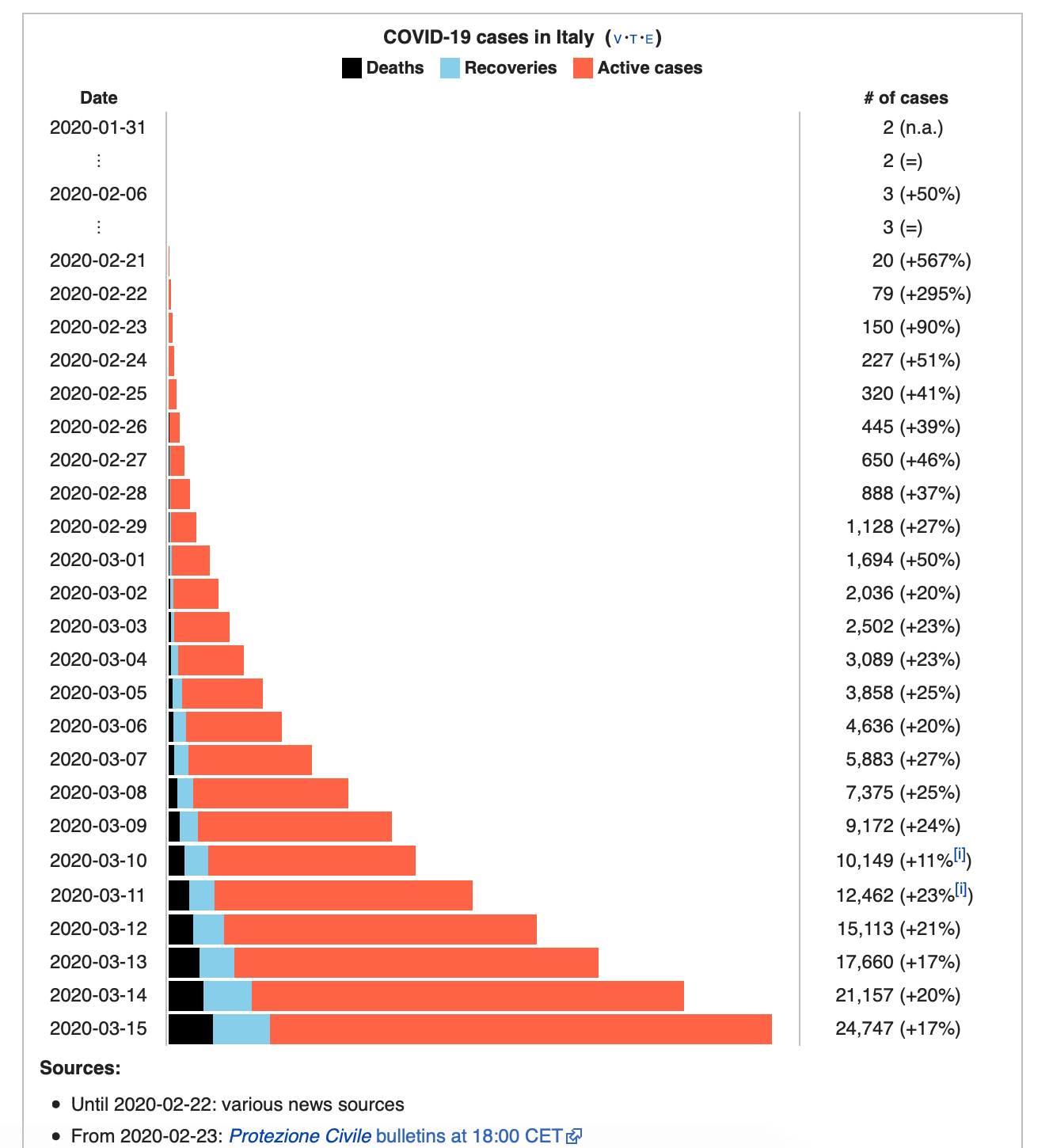 Many pharmacists across the world are working hard to keep up with therapeutic options for coronavirus / SARS-CoV-2 / COVID-19. This webpage was created to provide insights and resources for pharmacists helping to manage this pandemic. Take note that updates to the page will be made periodically as permitted and the content here may not be completely up-to-date as the situation is evolving quickly. Also beware that much of the data identified below is of relatively poor quality in terms of utility for determining what should be done in clinical practice.
Additionally, there are many potential COVID-19 therapies, I list several at the bottom, but do not discuss them in depth. Some of these can potentially lessen the cytokine storm associated with COVID-19 and help with managing acute respiratory distress syndrome (ARDS).
MOST IMPORTANTLY: Thus far no antiviral drug has been proven to work against COVID-19 in humans, although many randomized controlled trials are ongoing. Inclusion in this webpage is not an endorsement for use of any of these drugs for COVID-19.
If you have a resource that is helpful and reliable, but not posted here, send it to me: IDstewardship@gmail.com or @IDstewardship on Twitter.
Genereal COVID-19 Resources
Institutional & Society COVID-19 Treatment Guidelines
General Notes
Coronavirus 2019 (aka SARS-CoV-2) causes a diseases called COVID-19
Corticosteroids are not recommended as part of treatment for COVID-19 unless other indications exist

They may prolong viral shedding
One recent article did recommend to consider a short course of glucocorticoids

Nebulized bronchodilators may risk spread of the virus, in general meter dose inhalers (MDIs) are preferred
Antibiotics are generally NOT recommended
Co-infection with influenza and COVID-19 is expected to be unlikely, but possible
Lymphopenia is a common component of initial COVID-19 presentation
COVID-19 does not appear to increase procalcitonin, but does appear to increase CRP
Empiric neuraminidase (NMD) inhibitor therapy may be reasonable during flu season, but I am unable to identify any data to support NMD inhibitor use for COVID-19
People who die from COVID-19 usually have ARDS, beware the fluids may exacerbate this so aggressive fluid support is not generally appropriate
COVID-19 commonly causes troponin elevations
Patients with mild disease may not require hospitalization, but they may worsen with progression to lower respiratory tract disease

Risk factors for progression include: older age and underlying chronic medical conditions such as lung disease, cancer, heart failure, cerebrovascular disease, renal disease, liver disease, diabetes, immunocompromising conditions, and pregnancy
Infection in pediatrics may not be as common or severe, but it is possible
Remdesivir Resources & Notes
Remdesivir (GS-5734, RDV) is not FDA-approved and is available for investigational use only

Is a nucleotide analog antiviral
Has activity against Ebola virus, MERS, and SARS
Has drug-drug interactions via the liver, so would not be expected to be given with LPV/r

Guidance I received from Gilead was that once remdesivir is initiated, any experimental anti-COVID-19 therapies must be ceased

Available intravenous only

Study dose in adults: RDV 200 mg loading dose on day 1 is given, followed by 100 mg iv once-daily maintenance doses for 9 days

Review study protocols here

In preparing to request investigational remdesivir, collecting the following information ahead of time may be helpful:

Prescriber name, address, email, and phone number associated with the treatment center
Professional designation (ie, MD) or qualifications of requester including medical license number
Institution/ hospital name, address, email, and phone number
Shipping information (including pharmacy hours)
Patient case information, including previous or current treatments and clinical status

There are many exclusion criteria for remdesivir
Email to contact Gilead compassionate use: compassionateaccess@gilead.com
Lopinavir/ritonavir (Kaletra, LPV/r) Resources & Notes
Beware drug-drug interactions as ritonavir is a CYP enzyme inhibitor (will increase levels of other drugs)
Consider avoiding for patients with liver or cardiac disease
LPV/r comes in an oral solution, but it may not be available during times of high demand, so people may consider crushing the capsules

Pharmacokinetics of Lopinavir/Ritonavir Crushed versus Whole Tablets in Children

Crushing LPV/r can reduce the AUC by 50%
Increasing the LPV/r dose by 50% to compensate would mean a considerable amount of ritonavir, which may cause considerable drug-drug interactions

Cushing LPV/r has shown to reduce exposure to both lopinavir and ritonavir, so the increase in ritonavir may not be clinically relevant

From a colleague (paraphrased):

We may be able to use information from venetoclax (Venclexta), which like LPV/r has a film coated tablet

For venetoclax we dissolve the tablet into a slurry in a syringe to reduce the risk of losing drug in a crusher or amber vial. It can take up to 20 mins (per patient report) to get the drug to dissolve. The ICU nurses have not had issues with getting ventoclax surry down NG tubes, but floor nurses did report issues (potential it was not administered immediately?). We also did the tablet slurry in a syringe to reduce exposure to compounding staff.
This approach can avoid the use of preservatives

This briefing includes information on making a pediatric venetoclax solution, notes avoiding preservatives and potential issues with stability

Stability data is lacking, consider immediate use

From the above referenced article: "Disruption of the extrude matrix environment may adversely impact this formulation affect. The crushing of the pill leaves part of the drug(s) on the walls of the container or crushing device, and the transfer of the crushed substance to the food or liquid for mixing may also generate loss of the active drug."

The dose and duration I have seen recommended is LPV/r 400-100 mg BID x14 days
The University of Michigan COVID-19 guidance document recommends:

Adult dosing: 400 mg-100 mg PO BID
Pediatric dosing:

14 days to 6 months old: lopinavir component 16 mg/kg PO BID
6 months to 18 years:

15-25 kg: 200 mg-50 mg PO BID
26-35 kg: 300 mg-75 mg PO BID
>35 kg: 400 mg-100 mg PO BID

LPV/r oral solution has a high alcohol content and tastes terrible, which can be an issue for children in particular
Consider HIV testing prior to initiating therapy
Some clinicians are combing LPV/r with ribavirin
Epidemiologic Features and Clinical Course of Patients Infected With SARS-CoV-2 in Singapore

Includes 5 patients treated with LPV/r for COVID-19
None died
3 of 5 developed abnormal liver test results

There are pre-SARS-CoV-2 publications supporting activity of LPV/r versus SARS
Chloroquine Resources & Notes
Chloroquine is best known for it's use versus malaria, but apparently has activity versus some coronaviruses
Beware liver toxicity
Consider avoiding in patients with heart failure, recent myocardial infarction, G6PD deficiency, epilepsy, or porphyria
Oral tablets can be crushed, but it is not preferable
Expert Consensus on Chloroquine Phosphate for the Treatment of Novel Coronavirus Pneumonia

Recommends chloroquine 500 mg PO BID x10 days for treatment of COVID-19 pneumonia of mild, moderate, or severe disease

Breakthrough: Chloroquine Phosphate Has Shown Apparent Efficacy in Treatment of COVID-19 Associated Pneumonia in Clinical Studies

These authors reported that information from a news briefing stated more than 100 patients given chloroquine phosphate did better than the control patients when it came to exacerbation of pneumonia, improving lung imaging findings, and promoting a virus-negative conversion, and shortening the disease.

Remdesivir and chloroquine effectively inhibit the recently emerged novel coronavirus (2019-nCoV) in vitro

Favorable findings on activity of chloroquine and remdesivir versus SARS-CoV-2

Screening of an FDA-approved Compound Library Identifies Four Small-Molecule Inhibitors of Middle East Respiratory Syndrome Coronavirus Replication in Cell Culture

Suggests chloroquine may be a therapeutic option

New Insights on the Antiviral Effects of Chloroquine Against Coronavirus: What to Expect for COVID-19?

Discusses chloroquine's potential mechanisms against SARS-CoV-2
Hydroxychloroquine (Plaquenil) Resources & Notes
Tocilizumab (Actemra) Resources & Notes
Tocilizumab is an inteurlukin-6 (IL-6) inhibitor that may be helpful for cytokine storm associated with severe COVID-19 disease

Cytokine storm may be a complicating factor for patients with severe COVID-19 disease

Reserve for patients with severe disease who have failed other therapies, consider dose capping and limiting the number of doses
Novel Coronavirus Pneumonia Diagnosis and Treatment Plan (Provisional 7th Edition) states:

For patients with extensive and bilateral lung disease and severely ill patients with elevated IL-6 levels, treatment with tocilizumab may be attempted
The initial dose should be 4-8mg/kg, with the recommended dosage being 400mg
Dilute with 0.9% saline to 100ml and infuse over the course of more than 1 hour
Repeat once after 12 hours (same dosage) if the response to the first dose was poor, mximum two cumulative doses
Single maximum dose is 800mg
Pay attention to allergic reactions
Prohibited in patients with active infections such as tuberculosis

One article (not peer reviewed) reports on 20 patients with severe or critical COVID-19 disease treated with tocilizumab and having good outcomes
Concern exists that the long-term effects of this drug may predispose patients to future infections

Some providers are looking to IL-1 inhibitors for this reason

This medication is very expensive
More COVID-19 Articles
List of Other Potential Therapies
Probably the best place for a full list and ongoing studies related to these: clinicaltrials.gov
Intravenous Immunoglobulin
Thalidomide
Fingolamid (FTY720)
Carrimycin
Bromhexine HCl
Ecluzumab (Soliris)
Bevacizumab (Avastin)
Nitrous oxide gas
Nitazoxanide
Tiecoplanin
ASC09F
Xainping
Ascorbic acid (vitamin C)
Arbidol
Darunavir/ cobicistat (Prezcobix)
Danoprevir (Ganovo)
Pirfrenidone (Esbriet)
Ribavirin
Interferon alfa 2b
Indomethacin
Zinc
Other COVID-19 Resource Centers
More COVID-19 Webpages
Miscellaneous Things That May be Helpful
And Even More COVID-19 Literature
What is the best public policy to counter the health risk from the Coronavirus, COVID-19? This is the question on everyone's mind.
It is wise to try and learn from the current situation in China, where the rate of COVID-19 infections was extinguished as a result of a lockdown, and Italy, where hospitals are full and doctors have to make life-death decisions about patients because there are not enough beds to treat everyone in need. The mortality fraction of infected people appears to be higher by an order of magnitude when hospitals are overcrowded, so suppressing the rate of new infections serves the important purpose of allowing those in need to be treated.
If we do nothing, the current state of affairs is likely to worsen dramatically in the coming weeks. To gauge how bad circumstances may become, let's examine publicly available data.
Our first plot shows the reported number of infections over time. For each country, Wikipedia has a continuously updated Web site with links to the original official sources such as the World Health Organization, research institutes and health ministries. The plotted curves show the cumulative number of known infections per country as a function of date. Colored points show the current situation as of this writing on March 15.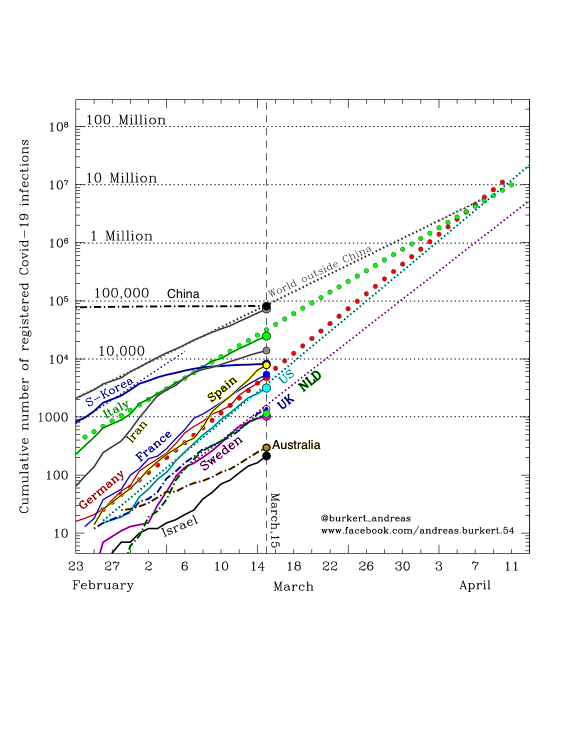 The data exhibit exponential growth in all countries, except for China and South Korea. Because of the rapid growth, early action is crucial in moderating the number of infections. Extrapolating the curves all the way to the edge of the box implies that the United States will reach a million infections at the beginning of April, with four million for Spain and about 0.1 million for the United Kingdom, Netherlands and Sweden, respectively. If no effective action is taken by April 10, the U.S. and the European countries could reach the 10 million mark.
The doubling times appear to evolve, as shown in our second plot. These values represent the slopes of the growth curves, averaged over a period of eight days.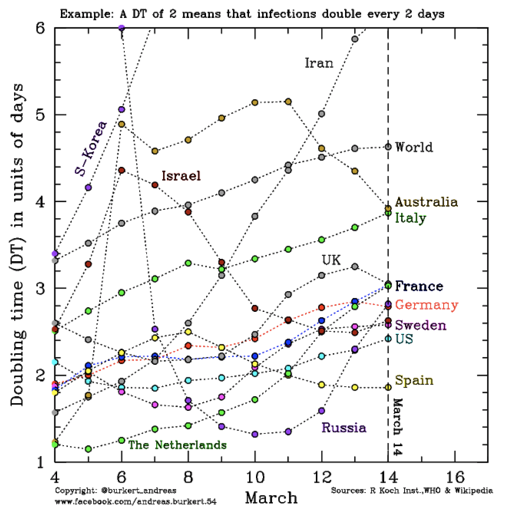 But the number of reported cases must be smaller than the actual number of infections. Many countries, including the U.S., were limited until recently by the availability of COVID-19 test kits. It is possible that there are many more cases than those in public reports. We label those "invisible infections." South Korea performed many more tests than the U.S. and succeeded in flattening its curve. The COVID-19 tests in the U.S. had a positive fraction that was three to 10 times larger than in South Korea, implying a substantial invisible population.
If the correction factor due to the "invisible population" is a factor of approximately 10 and only about 20 percent of people infected show symptoms (based on the Diamond Princess cruise ship statistics), then the actual number of people exposed to the coronavirus at this time is already five million. This implies: (i) with an approximately 2 percent mortality fraction out of the infected population, at least 100,000 people will die; and (ii) we are only about 10 doubling times away from having most of the worldwide population being infected if no social distancing is established. Given that the measured doubling time is a few days, this implies that uninhibited exponential growth will saturate within a month, leading up to some 100 million deaths. But if many countries flatten the curve, as we all hope, then saturation will take a much longer time and the number of deaths could be reduced.
What does all of this imply? The wisest policy at the moment is to "flatten the curves" and lengthen the doubling times as much as possible by suppressing social interactions. The virus does not move on its own. It is transmitted by humans and survives a few days on contaminated surfaces. To flatten the curves, all nations must engage immediately in social distancing as well as in extensive testing and comprehensive isolation of patients with COVID-19 symptoms and people who had been in contact with such patients.
Coronavirus model shows individual hospitals what to expect in the coming weeks
Why 'flattening the curve' may be the world's best bet to slow the coronavirus
Penn Medicine – COVID-19 Hospital Impact Model for Epidemics
For many countries staring down fast-rising coronavirus case counts, the race is on to "flatten the curve."
The United States and other countries, experts say, are likely to be hit by tsunamis of Covid-19 cases in the coming weeks without aggressive public health responses. But by taking certain steps — canceling large public gatherings, for instance, and encouraging some people to restrict their contact with others — governments have a shot at stamping out new chains of transmission, while also trying to mitigate the damage of the spread that isn't under control.
The epidemic curve, a statistical chart used to visualize when and at what speed new cases are reported, could be flattened, rather than being allowed to rise exponentially.
"If you look at the curves of outbreaks, they go big peaks, and then come down. What we need to do is flatten that down," Anthony Fauci, director of the National Institute of Allergy and Infectious Diseases, told reporters Tuesday. "That would have less people infected. That would ultimately have less deaths. You do that by trying to interfere with the natural flow of the outbreak."
The notion that the curve of this outbreak could be flattened began to gain credence after China took the extraordinary step of locking down tens of millions of people days in advance of the Lunar New Year, to prevent the virus from spreading around the country from Wuhan, the city where the outbreak appears to have started. Many experts at the time said it would have been impossible to slow a rapidly transmitting respiratory infection by effectively shutting down enormous cities — and possibly counterproductive.

But the quarantines, unprecedented in modern times, appear to have prevented explosive outbreaks from occurring in cities outside of Hubei province, where Wuhan is located.
Since then, spread of the virus in China has slowed to a trickle; the country reported only 19 cases on Monday. And South Korea, which has had the third largest outbreak outside of China, also appears to be beating back transmission through aggressive actions. But other places, notably Italy and Iran, are struggling.
For weeks, a debate has raged about whether the virus could be "contained" — an approach the WHO has been exhorting countries to focus on — or whether it made more sense to simply try to lessen the virus' blow, an approach known as "mitigation."
That argument has been counterproductive, Mike Ryan, the head of the WHO's health emergencies program, said Monday.
"I think we've had this unfortunate emergence of camps around the containment camp, the mitigation camp — different groups presenting and championing their view of the world. And frankly speaking, it's not helpful," Ryan told reporters.
Caitlin Rivers, an assistant professor of epidemiology at the Johns Hopkins Center for Health Security, said any lessening of spread will help health systems remain functional.
"Even if we are not headed to zero transmission, any cases that we can prevent and any transmission that we can avoid are going to have enormous impact," she said. "Not only on the individuals who end up not getting sick but all of the people that they would have ended up infecting. … And so the more that we can minimize it, the better."
On any normal day, health systems in the United States typically run close to capacity. If a hospital is overwhelmed by Covid-19 cases, patients will have a lower chance of surviving than they would if they became ill when the hospital's patient load was more manageable. People in car crashes, people with cancer, pregnant women who have complications during delivery — all those people risk getting a lesser caliber of care when a hospital is trying to cope with the chaos of an outbreak.
"I think the whole notion of flattening the curve is to slow things down so that this doesn't hit us like a brick wall," said Michael Mina, associate medical director of clinical microbiology at Boston's Brigham and Women's Hospital. "It's really all borne out of the risk of our health care infrastructure pulling apart at the seams if the virus spreads too quickly and too many people start showing up at the emergency room at any given time."
Countries and regions that have been badly hit by the virus report hospitals that are utterly swamped by the influx of sick people struggling to breathe.
Alessandro Vespignani, director of the Network Science Institute at Northeastern University, is gravely worried about what he's hearing from contacts in Italy, where people initially played down the outbreak as "a kind of flu," he said. Hospitals in the north of the country, which the virus first took root, are filled beyond capacity, he said, and may soon face the nightmarish dilemma of having to decide who to try to save.
"This was what was really keeping me up at night, to unfortunately see Italy approaching that point," Vespignani said, adding that now that the country has effectively followed China's example and put its population on lockdown, "hopefully this will work."
Vespignani, along with colleagues, published a recent modeling study in Science that showed travel restrictions — which the United States has adopted to a degree — only slow spread when combined with public health interventions and individual behavioral change. He's not convinced that people in the United States comprehend what's coming.
"I think people are not yet fully understanding the scale of this outbreak and how dangerous it is to downplay," he said.
Mina agreed: "Without a very clear signal coming from our government at the national level, it's really just like a small trickle as people start to recognize that this is happening."
COVID-19 infection growth rates, lagged mortality rates, and other interesting statistics
An interactive web-based dashboard to track COVID-19 in real time
Chinese COVID infection dashboard
No longer in a low-growth world
The growth of the COVID-19 virus is staggering. From January 22nd to the time of this writing, the median daily rate of new cases is 5.6 percent. More startling is the median daily growth in deaths at 9.3 percent. That said, it's comforting to see that the median recovery growth rate of 16.2 percent is higher than the combined new case and mortality growth rates.
Estimating the Number of Future Coronavirus Cases in the United States
Trump directs FDA to examine whether malaria drug can be used for coronavirus
ER Wait Times: